Blank Thermal Transfer Labels, 5" OD

Blank Thermal Transfer Labels - 5" OD

Part Number
Size
Perf
Labels
Across
Labels/
Roll
Rolls/
Case
Labels/
Case
Price/
Case
Order

650013

1 1/4" x 1"

Yes

1

2,300

4

9,200

$18.40

650012

1 1/2" x 1"

Yes

1

2,300

4

9,200

$19.66

650011

2" x 1"

Yes

1

2,300

4

9,200

$24.03

650010

2" 1/4 x 3/4"

Yes

1

3,000

4

12,000

$26.70

650009

2 1/4" x 1 1/4"

Yes

1

1,900

4

7,600

$25.65

650008

2 1/4 x 4

Yes

1

700

4

2,800

$26.56

650007

3" x 2"

Yes

1

1,240

4

4,960

$31.00

650006

3" x 3"

Yes

1

850

4

3,400

$28.64

650005

3 1/2" x 1"

Yes

1

2,300

4

9,200

$32.66

650004

4" x 1"

Yes

1

2,300

4

9,200

$37.73

650003

4" x 2"

Yes

1

1,250

4

5,000

$38.56

650002

4" x 3"

Yes

1

850

4

3,400

$38.53

650001

4" x 4"

Yes

1

700

4

2,800

$41.30

650000

4" x 6"

Yes

1

450

4

1,800

$22.09
Thermal Transfer - Bright white, ultra-smooth, coated face stock for slow to high-speed thermal transfer printing with high resistance to abrasion and smear.
• 5" OD Roll
• 1" ID Core
• Die Cut Waste Removed
• Permanent, Clear Adhesive
Thermal Transfer - 5" O.D. Wound Out


© SDZ Supply Co., LLC.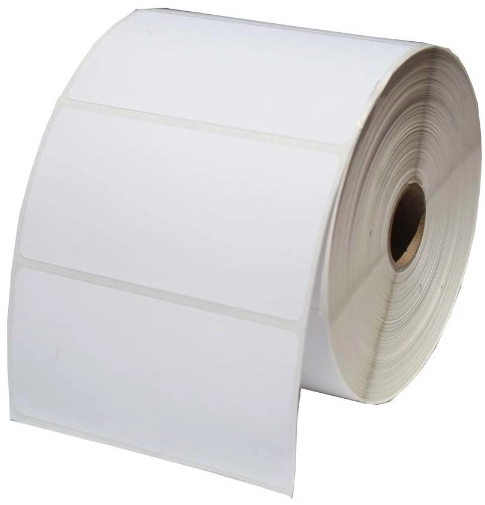 1-888-975-5215
8:00am - 5:00pm Eastern