High Clarity Flat Poly Bags - 1.5 MIL & 3 MIL

High Clarity Flat Poly Bags - 1.5 & 3 MIL
Part Number
W x L
MIL
Bags/
Case
Price/
Case
Order

PZ403

2" x 3"

1.5

10,000

$26.30

PZ404

2" x 10"

1.5

10,000

$84.77

PZ400

3" x 4"

1.5

10,000

$45.12

PZ402

3" x 5 1/2"

1.5

10,000

$80.73

PZ407

3" x 8"

1.5

5,000

$51.22

PZ408

3" x 11"

1.5

2,000

$26.95

PZ409

4" x 4"

1.5

5,000

$26.34

PZ411

4" x 5"

1.5

5,000

$33.90

PZ410

4" x 6"

1.5

5,000

$55.79

PZ413

4" x 8"

1.5

2,000

$21.00

PZ414

4" x 10"

1.5

2,000

$45.44

PZ416

4" x 12"

1.5

2,000

$40.98

PZ415

4 3/4" x 6 3/4"

1.5

5,000

$74.39

PZ420

4 3/4" x 8 1/4"

1.5

2,000

$29.10

PZ421

5" x 5"

1.5

5,000

$41.22

PZ422

5" x 7"

1.5

5,000

$74.88

PZ423

5" x 8"

1.5

5,000

$85.49

PZ424

5" x 12"

1.5

2,000

$51.20

PZ425

5 3/4" x 7 3/4"

1.5

2,000

$40.10

PZ430

5 3/4" x 9 3/4"

1.5

2,000

$36.78

PZ431

6" x 6"

1.5

2,000

$30.63

PZ432

6" x 8"

1.5

1,000

$20.49

PZ433

6" x 9"

1.5

1,000

$23.09

PZ434

6" x 10"

1.5

1,000

$29.56

PZ436

6" x 12"

1.5

1,000

$30.82

PZ437

7" x 10"

1.5

1,000

$29.92

PZ440

7 1/2" x 13"

1.5

1,000

$47.20

PZ445

8" x 10"

1.5

1,000

$30.93

PZ447

8" x 12"

1.5

1,000

$31.49

PZ448

8" x 14"

1.5

1,000

$45.00

PZ450

9" x 12"

1.5

1,000

$56.56

PZ455

10" x 12"

1.5

1,000

$51.55

PZ457

10" x 15"

1.5

1,000

$71.35

PZ458

11" x 14"

1.5

1,000

$65.76

PZ460

12" x 18"

1.5

1,000

$92.81

PZ465

14" x 20"

1.5

1,000

$107.55

PZ470

18" x 24"

1.5

1,000

$184.50

PZ475

20" x 30"

1.5

500

$127.99

PZ480

24" x 30"

1.5

500

$158.21



© SDZ Supply Co., LLC.
1-888-975-5215
8:00am - 5:00pm Eastern
Flat Polypropylene Bags
The high clarity of these Polypropylene Poly Bags enhances the appearance of products.
• Moisture, grease and vapor resistant.
• Meets FDA and USDA specifications for food contact.
• Polypropylene Bags help keep packaged foods fresh.
• Close bags with Crimper Hand Sealer.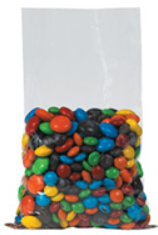 1.5 MIL
Part Number
W x L
MIL
Bags/
Case
Price/
Case
Order

PZ500

3" x 5 1/2"

3

1,000

$14.54

PZ505

4" x 6"

3

1,000

$23.68

PZ506

4 3/4" x 6 3/4"

3

1,000

$21.94

PZ510

5 3/4" x 7 3/5"

3

1,000

$44.01

PZ515

8" x 10"

3

1,000

$79.13
3 MIL