Iimak Monarch 9800 Ribbon
1-888-975-5215
8:00am - 5:00pm Eastern

Monarch 9800 Printer Ribbon

Part Number
Clean Start
Color
Size
Lead Time
Rolls/Case
Wind
Price/Case
Buy

FMD0467CXC

No

Black

1.81" x 1,969'
(46mm x 600m)

3 Days

24

CSO

$267.43

FMD0587CXC

No

Black

2.28" x 1,969'
(58mm x 600m)

3 Days

24

CSO

$337.37

FMD0847CXC

No

Black

3.31" x 1,969'
(84mm x 600m)

3 Days

24

CSO

$488.57

FMD1107CXC

No

Black

4.33" x 1,969'
(110mm x 600m)

5 Days

12

CSO

$319.89
GP725 Wax Ribbons
Recommended Stocks: Coated and uncoated paper tag and label stock, Synthetic papers (i.e. Kimdura, Polyart)
Part Number
Clean Start
Color
Size
Lead Time
Rolls/Case
Wind
Price/Case
Buy

FMD1103C

No

Black

4.33" x 1,969'
(110mm x 600m)

3 Days

12

CSO

$1,029.09
SP330 Resin Ribbons
Recommended Stocks: Topcoated and Print-Treated Polyester, Polymide, Polypropylene, Polyethylene, Vinyl, Nylon.
Part Number
Clean Start
Color
Size
Lead Time
Rolls/Case
Wind
Price/Case
Buy

FMD1105C

No

Black

4.33" x 1,969'
(110mm x 600m)

3 Days

12

CSO

$518.23
Prime Mark Wax/Resin Ribbons
Recommended Stocks: Coated paper, Polyethylene, Polypropylene, Polyester.



© SDZ Supply Co., LLC.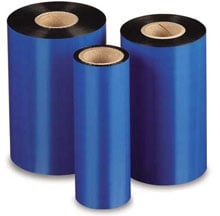 Armor IIMAK Ribbon for Monarch 9800 Printers -
Special Core CSO
PLEASE NOTE: Due to Supply Chain constraints, and labor shortages within the manufacturer, the Lead Times stated are an estimate, and could take less time. Please plan on the lead times that are stated for each item. If the lead time is greater than shown, we will contact you within 24 hours of date your order was placed.