White Block Reclosable Poly Bags - 4 MIL

White Block Reclosable Poly Bags - 4 MIL
Part Number
W x L
Bags/
Case
Price/
Case
Order

PB4019

2" x 2"

1,000

$8.77

PB3982

2" x 3"

1,000

$20.00

PB4035

2" x 4"

1,000

$12.73

PB4036

2" x 6"

1,000

$17.11

PB3983

2 1/2" x 3"

1,000

$13.84

PB4037

3" x 3"

1,000

$16.09

PB3984

3" x 4"

1,000

$24.89

PB3985

3" x 5"

1,000

$26.51

PB4038

3" x 6"

1,000

$25.67

PB3988

4" x 4"

1,000

$25.82

PB4039

4" x 5"

1,000

$30.61

PB3990

4" x 6"

1,000

$37.81

PB4040

4" x 8"

1,000

$73.92

PB4041

4" x 10"

1,000

$51.90

PB4042

5" x 5"

1,000

$38.29

PB4006

5" x 7"

1,000

$54.76

PB3995

5" x 8"

1,000

$62.38

PB3996

6" x 6"

1,000

$53.23

PB3997

6" x 8"

1,000

$69.05

PB4000

6" x 9"

1,000

$85.98

PB4001

6" x 10"

1,000

$78.56

PB4007

6" x 12"

1,000

$94.23

PB4043

7" x 8"

1,000

$83.06

PB4003

8" x 8"

1,000

$94.68

PB4002

8" x 10"

1,000

$113.07

PB4044

8" x 12"

1,000

$117.06

PB4004

9" x 12"

1,000

$152.63

PB4009

10" x 10"

1,000

$130.88

PB4008

10" x 12"

1,000

$157.02

PB4012

10" x 13"

1,000

$170.12

PB4045

10" x 15"

1,000

$179.56

PB4015

12" x 12"

1,000

$188.45

PB4017

12" x 15"

500

$106.01

PB4047

12" x 18"

500

$129.27

PB4048

13" x 15"

500

$178.51

PB4020

13" x 18"

500

$137.81

PB4049

14" x 16"

500

$64.74

PB4010

14" x 20"

500

$164.90

PB4011

14" x 24"

500

$211.73

PB4013

18" x 20"

250

$106.00

PB4014

18" x 24"

250

$136.11

PB4016

20" x 24"

250

$151.23

PB4018

24" x 24"

250

$196.99


© SDZ Supply Co., LLC.
White Block Reclosable Poly Bags - 4 Mil
The convenience of a reclosable bag and no label needed!
• Large, white, write on block for description, quantity, pricing, etc.
• Meets FDA and USDA specifications.
• Sizes listed are the inside usable dimensions of the bag.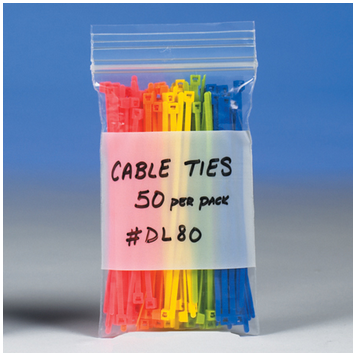 1-888-975-5215
8:00am - 5:00pm Eastern