White Block Reclosable Poly Bags - 2 MIL

White Block Reclosable Poly Bags - 2 MIL
Part Number
W x L
Bags/
Case
Price/
Case
Order

PB3932

1 1/2" x 2"

1,000

$3.72

PB3933

2" x 2"

1,000

$13.11

PB3935

2" x 3"

1,000

$6.73

PB3936

2" x 4"

1,000

$7.27

PB3937

2" x 6"

1,000

$7.82

PB3939

3" x 3"

1,000

$8.44

PB3940

3" x 4"

1,000

$12.39

PB3945

3" x 5"

1,000

$9.88

PB3946

3" x 6"

1,000

$17.73

PB3948

4" x 4"

1,000

$12.87

PB3949

4" x 5"

1,000

$15.71

PB3950

4" x 6"

1,000

$14.42

PB3952

4" x 8"

1,000

$25.44

PB3954

4" x 10"

1,000

$31.42

PB3956

5" x 5"

1,000

$20.94

PB3959

5" x 7"

1,000

$25.54

PB3960

5" x 8"

1,000

$31.11

PB3963

6" x 6"

1,000

$26.61

PB3965

6" x 8"

1,000

$37.48

PB3970

6" x 9"

1,000

$30.49

PB3971

6" x 10"

1,000

$61.81

PB3972

6" x 12"

1,000

$47.09

PB3974

7" x 8"

1,000

$40.06

PB3966

8" x 8"

1,000

$48.82

PB3973

8" x 10"

1,000

$53.60

PB3981

8" x 12"

1,000

$62.78

PB3975

9" x 12"

1,000

$84.79

PB3968

10" x 10"

1,000

$65.44

PB3969

10" x 12"

1,000

$84.82

PB3976

10" x 13"

1,000

$120.34

PB3986

10" x 15"

1,000

$75.23

PB3987

12" x 12"

1,000

$101.77

PB3977

12" x 13"

1,000

$88.46

PB3979

12" x 15"

1,000

$123.39

PB3989

12" x 18"

1,000

$141.34

PB3978

13" x 15"

1,000

$137.81

PB3980

13" x 18"

1,000

$199.33

PB3991

14" x 16"

500

$73.29

PB3992

14" x 20"

500

$91.60

PB3993

14" x 24"

500

$109.94

PB3994

18" x 20"

500

$117.79

PB3998

18" x 24"

500

$139.92

PB3999

20" x 24"

250

$109.28

PB4005

24" x 24"

250

$93.29


© SDZ Supply Co., LLC.
White Block Reclosable Poly Bags - 2 Mil
The convenience of a reclosable bag and no label needed!
• Large, white, write on block for description, quantity, pricing, etc.
• Meets FDA and USDA specifications.
• Sizes listed are the inside usable dimensions of the bag.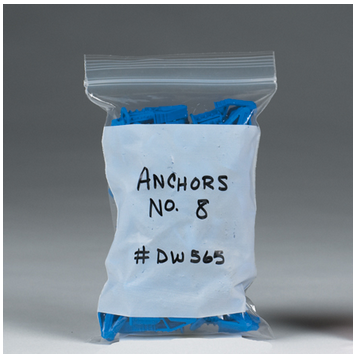 1-888-975-5215
8:00am - 5:00pm Eastern