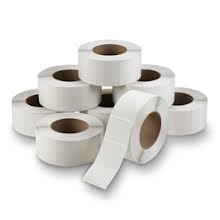 Gloss White Polyester Film Labels, 8" OD

Gloss White Polyester Film Labels - 8" OD Wound Out

Part Number
Size
Perf
Labels
Across
Labels/
Roll
Rolls/
Case
Labels/
Case
Price/
Case
Order

LOA831HPP0G3

1 1/2" x 1/2"

Yes

1

9,400

6

56,400

$392.05

LOA830CPP0G3

2" x 1"

Yes

1

5,500

8

44,000

$558.05

LOA830GPP0G3

3" x 1"

Yes

1

5,500

6

33,000

$773.49

LOA830PPP0G3

4" x 1"

Yes

1

5,500

4

22,000

$599.10

LOA830RPP0G3

4" x 2"

Yes

1

2,900

4

11,600

$553.27

LOA830WPP0G3

4" x 6"

Yes

1

1,000

4

4,000

$543.07
Gloss White Polyester - Features a topcoat for high performance thermal transfer printing. Made of an emulsion acrylic, the adhesive works well on a variety of surfaces.
• 8" OD Roll
• 3" ID Core
• Die Cut Waste Removed
• Permanent, Clear Adhesive
Gloss White Polyester Film Thermal Transfer - 8" O.D. Wound Out


© SDZ Supply Co., LLC.
Part Number
Size
Perf
Labels
Across
Labels/
Roll
Rolls/
Case
Labels/
Case
Price/
Case
Order

LOB830RPP0G3

4" x 2"

Yes

1

2,600

4

10,400

$345.35

LOB830WPP0G3

4" x 6"

Yes

1

900

4

3,600

$254.94
3.0 mil Polypro Comparable to Kimdura - 8" O.D. Wound Out
1-888-975-5215
8:00am - 5:00pm Eastern