Reclosable Poly Bags - 6 MIL

Reclosable Poly Bags - 6 MIL
Part Number
W x L
Bags/
Case
Price/
Case
Order

PB3855

2" x 3"

1,000

$16.83

PB4254

2" x 6"

1,000

$31.94

PB4255

2" x 12"

1,000

$45.07

PB3857

3" x 3"

1,000

$25.22

PB3860

3" x 4"

1,000

$30.04

PB3861

3" x 5"

1,000

$35.13

PB3856

3" x 6"

1,000

$41.56

PB4256

3" x 10"

1,000

$52.98

PB4257

3" x 12"

1,000

$73.51

PB3862

4" x 4"

1,000

$38.39

PB3864

4" x 6"

1,000

$55.29

PB3865

4" x 8"

1,000

$71.57

PB3866

4" x 10"

1,000

$78.55

PB4258

4" x 12"

1,000

$43.98

PB4259

4" x 15"

1,000

$156.38

PB4260

4" x 18"

1,000

$129.99

PB3863

5" x 5"

1,000

$58.56

PB4403

5" x 6"

1,000

$68.84

PB3867

5" x 7"

1,000

$79.37

PB3868

5" x 8"

1,000

$93.51

PB3869

5" x 10"

1,000

$98.12

PB4262

5" x 12"

1,000

$53.98

PB3870

6" x 6"

1,000

$82.63

PB3871

6" x 8"

1,000

$96.68

PB3873

6" x 9"

1,000

$108.13

PB3875

6" x 10"

1,000

$117.76

PB3876

6" x 12"

1,000

$141.34

PB4264

6" x 18"

500

$97.47

PB3874

7" x 8"

1,000

$124.26

PB3877

7" x 10"

1,000

$137.43

PB4266

7" x 12"

1,000

$73.87

PB3878

8" x 8"

1,000

$146.21

PB3879

8" x 10"

1,000

$141.29

PB3880

8" x 12"

1,000

$188.44

PB4268

8" x 18"

500

$127.02

PB4269

9" x 9"

1,000

$161.57

PB3882

9" x 12"

500

$79.66

PB4270

9" x 14"

500

$108.56

PB4271

9" x 15"

500

$116.31

PB3883

10" x 10"

500

$88.34

PB3884

10" x 12"

500

$106.01

PB3885

10" x 13"

500

$127.60

PB3881

10" x 14"

500

$123.65

PB3886

10" x 16"

500

$157.03

PB4272

10" x 18"

500

$155.09

PB4273

11" x 11"

500

$117.88

PB3888

12" x 12"

500

$185.09

PB3889

12" x 15"

500

$159.01

PB4274

12" x 16"

500

$183.80

PB3890

12" x 18"

500

$229.74

PB4275

12" x 20"

250

$51.52

PB3892

13" x 15"

250

$93.32

PB3893

13" x 18"

250

$103.35

PB3895

14" x 14"

250

$86.57

PB3896

14" x 16"

250

$98.94

PB3897

14" x 20"

250

$148.76

PB3898

14" x 24"

250

$148.42

PB3899

15" x 18"

250

$174.91

PB3900

16" x 16"

250

$113.06

PB3901

16" x 18"

250

$127.20

PB3902

16" x 20"

250

$157.04

PB4277

16" x 24"

250

$239.00

PB3903

18" x 18"

250

$143.11

PB3904

18" x 20"

250

$176.68

PB3905

18" x 24"

100

$84.80

PB3906

20" x 20"

100

$78.52

PB3907

20" x 24"

100

$94.22

PB3887

20" x 30"

100

$117.78

PB3908

24" x 24"

100

$101.77

PB4278

24" x 30"

100

$124.06

PB4279

24" x 36"

100

$148.88

PB3909

26" x 26"

100

$101.74

PB3891

28" x 30"

100

$164.38

PB4281

30" x 30"

100

$108.62


© SDZ Supply Co., LLC.
Reclosable Poly Bags - 6 Mil
Single track zipper extends the width of the bag and keeps products clean and free from moisture.
• Heavy-duty bags are puncture resistant.
• Zipper bags can be reused.
• Bags meet FDA and USDA requirements.
• Sizes listed are the inside usable dimensions of the bag.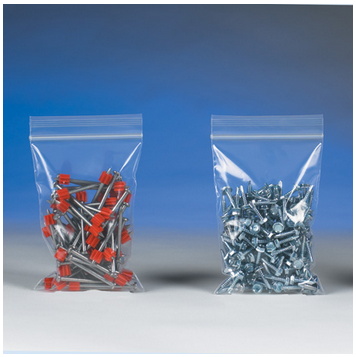 1-888-975-5215
8:00am - 5:00pm Eastern