Reclosable Poly Bags - 8 MIL

Reclosable Poly Bags - 8 MIL
Part Number
W x L
Bags/
Case
Price/
Case
Order

PB4050

2" x 3"

1,000

$13.94

PB4051

3" x 4"

1,000

$26.72

PB3910

3" x 5"

1,000

$46.76

PB4052

3" x 6"

1,000

$38.34

PB3858

4" x 4"

1,000

$51.17

PB3911

4" x 6"

1,000

$73.50

PB3859

4" x 8"

1,000

$95.51

PB4053

4" x 10"

1,000

$78.94

PB3912

5" x 8"

1,000

$119.38

PB3913

6" x 6"

1,000

$139.74

PB3914

6" x 8"

1,000

$143.22

PB3915

6" x 9"

1,000

$160.56

PB3894

6" x 12"

1,000

$241.95

PB4404

8" x 8"

1,000

$167.63

PB3916

8" x 10"

1,000

$209.39

PB3917

8" x 12"

500

$166.13

PB4054

8" x 18"

500

$135.94

PB3918

9" x 12"

500

$137.87

PB3919

10" x 12"

500

$157.04

PB4055

10" x 14"

500

$65.88

PB4056

10" x 16"

500

$75.28

PB3920

12" x 12"

500

$188.46

PB3921

12" x 15"

500

$229.70

PB3941

12" x 18"

250

$166.75

PB4058

13" x 15"

250

$102.26

PB3922

13" x 18"

250

$199.16

PB3923

14" x 24"

250

$141.05

PB4059

15" x 18"

250

$141.60

PB4060

16" x 16"

250

$60.22

PB4061

16" x 18"

250

$205.47

PB3924

16" x 20"

250

$188.45

PB3925

18" x 24"

100

$113.07

PB4405

20" x 20"

100

$104.70

PB3926

20" x 24"

100

$118.10

PB3942

20" x 30"

50

$70.67

PB3927

24" x 24"

100

$150.76

PB4062

24" x 30"

50

$67.97

PB3928

28" x 30"

50

$119.20

PB4063

30" x 30"

50

$102.28


© SDZ Supply Co., LLC.
Reclosable Poly Bags - 8 Mil
Thick, puncture resistant bags are ideal for heavy products or parts with sharp edges.
• Super heavyweight bags feature a track zipper extending the
entire width of the bag.
• Bags meet FDA and USDA requirements.
• Sizes listed are the inside usable dimensions of the bag.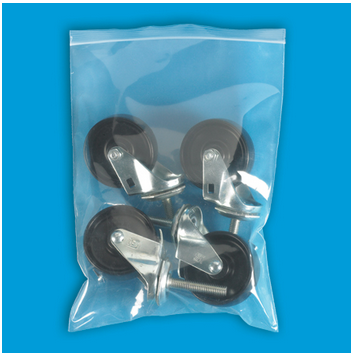 1-888-975-5215
8:00am - 5:00pm Eastern