White Block Reclosable Poly Bags - 6 MIL

White Block Reclosable Poly Bags - 6 MIL
Part Number
W x L
Bags/
Case
Price/
Case
Order

PB4021

3" x 5"

1,000

$35.77

PB4022

4" x 6"

1,000

$54.34

PB4023

5" x 7"

1,000

$76.93

PB4024

6" x 8"

1,000

$108.72

PB4025

6" x 9"

1,000

$118.71

PB4026

8" x 8"

1,000

$140.71

PB4027

8" x 10"

1,000

$219.83

PB4028

9" x 12"

500

$106.00

PB4029

10" x 12"

500

$117.79

PB4030

12" x 12"

500

$145.57

PB4031

12" x 15"

500

$172.24

PB4032

13" x 18"

250

$103.35

PB4033

14" x 24"

250

$105.79

PB4034

18" x 20"

250

$205.07


© SDZ Supply Co., LLC.
White Block Reclosable Poly Bags - 6 Mil
Perfect for heavy-duty parts and tools.
• Features a large, white block to write the description, quantity,
pricing, etc.
• Reclosable bags can be reused.
• Meets FDA and USDA specifications.
• Sizes listed are the inside usable dimensions of the bag.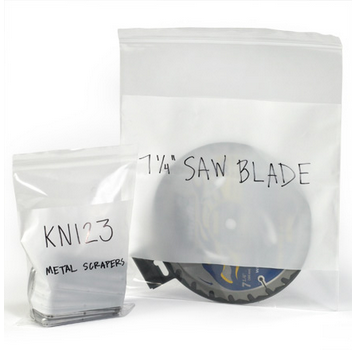 1-888-975-5215
8:00am - 5:00pm Eastern