Blown Machine Stretch Film

Blown Machine Stretch Film
Part Number
W x L
Color
Gauge
Rolls/
Case
Price/
Case
Order

MSF2060B

20" x 7,500'

Clear

60

1

$113.24

MSF20706B

20" x 6,500'

Clear

70

1

$98.54

MSF20755B

20" x 5,000'

Clear

75

1

$56.55

MSF20805B

20" x 5,000'

Clear

80

1

$86.85

MSF2080B

20" x 6,000'

Clear

80

1

$126.06

MSF2090B

20" x 5,000'

Clear

90

1

$161.92



© SDZ Supply Co., LLC.
1-888-975-5215
8:00am - 5:00pm Eastern
Blown Machine Stretch Film
Blown film is puncture resistant and is great for irregular loads.
• Film provides excellent cling to itself, not to products.
• Superior stabilization on loads.
• Performs in temperatures down to -5° F.
• For use on all stretch film equipment.
• Available by the roll.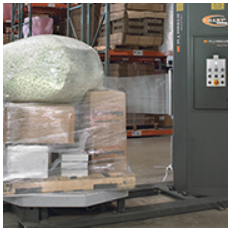 Part Number
W x L
Color
Gauge
Rolls/
Skid
Price/
Skid
Order

MSF2060B-S

20" x 7,500'

Clear

60

40

$4,369.88

MSF20706B-S

20" x 6,500'

Clear

70

40

$3,802.35

MSF20755B-S

20" x 5,000'

Clear

75

40

$2,182.12

MSF20805B-S

20" x 5,000'

Clear

80

40

$3,351.53

MSF2080B-S

20" x 6,000'

Clear

80

40

$4,864.47

MSF2090B-S

20" x 5,000'

Clear

90

40

$6,248.00
Pricing Per Roll
Pricing Per Skid