Reclosable Poly Bags - 4 MIL

Reclosable Poly Bags - 4 MIL
Part Number
W x L
Bags/
Case
Price/
Case
Order

PB3742

1" x 1"

1,000

$21.39

PB3743

1 1/2" x 1 1/2"

1,000

$7.52

PB3744

1 1/2" x 2"

1,000

$6.98

PB3692

2" x 2"

1,000

$8.67

PB3684

2" x 3"

1,000

$9.29

PB3696

2" x 4"

1,000

$13.46

PB3686

2" x 5"

1,000

$14.88

PB3697

2" x 6"

1,000

$17.71

PB3693

2" x 8"

1,000

$23.95

PB3698

2" x 10"

1,000

$26.18

PB3699

2" x 12"

1,000

$31.39

PB3685

2 1/2" x 3"

1,000

$14.94

PB3712

2 1/2" x 10"

1,000

$31.29

PB3713

2 1/2" x 12"

1,000

$37.57

PB3714

3" x 2"

1,000

$6.57

PB3694

3" x 3"

1,000

$16.78

PB3695

3" x 4"

1,000

$22.27

PB3700

3" x 5"

1,000

$16.67

PB3701

3" x 6"

1,000

$28.72

PB3729

3" x 7"

1,000

$28.56

PB3703

3" x 8"

1,000

$35.98

PB3736

3" x 9"

1,000

$17.98

PB3704

3" x 10"

1,000

$39.27

PB3707

3" x 12"

1,000

$47.11

PB3737

3" x 14"

1,000

$40.43

PB3739

3" x 16"

1,000

$64.13

PB3741

3" x 18"

1,000

$65.00

PB3705

4" x 4"

1,000

$33.88

PB3706

4" x 5"

1,000

$31.92

PB3710

4" x 6"

1,000

$25.32

PB3711

4" x 7"

1,000

$36.62

PB3715

4" x 8"

1,000

$45.22

PB3716

4" x 9"

1,000

$53.54

PB3717

4" x 10"

1,000

$45.74

PB3718

4" x 12"

1,000

$62.78

PB4122

4" x 14"

1,000

$67.39

PB3719

4" x 15"

1,000

$78.55

PB4123

4" x 16"

1,000

$87.28

PB4124

4" x 18"

1,000

$96.28

PB4125

4" x 20"

1,000

$84.15

PB4126

4" x 24"

1,000

$128.38

PB4127

4" x 30"

1,000

$115.52

PB4128

4" x 36"

1,000

$173.29

PB4129

5" x 3"

1,000

$37.77

PB3721

5" x 5"

1,000

$38.95

PB3726

5" x 6"

1,000

$42.42

PB3722

5" x 7"

1,000

$45.81

PB3720

5" x 8"

1,000

$56.52

PB4402

5" x 9"

1,000

$86.06

PB3723

5" x 10"

1,000

$86.44

PB3724

5" x 12"

1,000

$70.68

PB4130

5" x 14"

1,000

$42.00

PB3727

5" x 15"

1,000

$98.12

PB4131

5" x 16"

1,000

$48.00

PB4145

5" x 20"

1,000

$169.81

PB4146

5" x 24"

1,000

$70.34

PB3725

6" x 4"

1,000

$41.52

PB4147

6" x 5"

1,000

$43.95

PB3730

6" x 6"

1,000

$54.93

PB4148

6" x 7"

1,000

$40.01

PB3735

6" x 8"

1,000

$79.87

PB3740

6" x 9"

1,000

$54.12

PB3745

6" x 10"

1,000

$96.78

PB3746

6" x 12"

1,000

$94.23

PB4149

6" x 14"

1,000

$98.82

PB3747

6" x 15"

1,000

$156.71

PB4150

6" x 16"

1,000

$112.90

PB3708

6" x 18"

1,000

$141.34

PB4151

6" x 20"

500

$35.17

PB4152

6" x 24"

500

$84.68

PB4153

6" x 30"

500

$105.85

PB4154

6" x 36"

500

$127.02

PB3709

7" x 5"

1,000

$54.11

PB4155

7" x 7"

1,000

$74.05

PB3749

7" x 8"

1,000

$73.28

PB3751

7" x 9"

1,000

$108.06

PB3750

7" x 10"

1,000

$91.59

PB3753

7" x 12"

1,000

$109.93

PB3752

7" x 15"

1,000

$137.43

PB4156

8" x 5"

1,000

$58.56

PB3755

8" x 8"

1,000

$90.49

PB4169

8" x 9"

1,000

$129.54

PB3760

8" x 10"

1,000

$78.78

PB3761

8" x 12"

1,000

$125.63

PB4170

8" x 14"

1,000

$142.95

PB4171

8" x 15"

1,000

$137.83

PB4172

8" x 16"

1,000

$147.04

PB3762

8" x 18"

500

$94.23

PB4173

8" x 20"

500

$45.81

PB4174

8" x 24"

500

$122.53

PB4232

8" x 30"

500

$68.70

PB4176

8" x 36"

500

$115.87

PB4177

9" x 6"

1,000

$100.32

PB3728

9" x 9"

1,000

$117.65

PB3765

9" x 12"

1,000

$104.73

PB3731

9" x 14"

1,000

$213.59

PB3767

9" x 15"

1,000

$140.07

PB3770

10" x 10"

1,000

$141.34

PB3775

10" x 12"

1,000

$115.73

PB3776

10" x 13"

1,000

$183.74

PB3777

10" x 14"

1,000

$183.21

PB4178

10" x 15"

1,000

$77.29

PB3779

10" x 16"

1,000

$196.12

PB3732

10" x 18"

500

$106.01

PB4179

10" x 20"

500

$103.39

PB4180

10" x 24"

500

$93.46

PB4181

10" x 30"

500

$155.09

PB4182

10" x 36"

250

$46.38

PB3733

11" x 11"

1,000

$158.35

PB3783

12" x 10"

1,000

$157.02

PB3785

12" x 12"

1,000

$203.50

PB4183

12" x 13"

1,000

$258.62

PB3787

12" x 14"

500

$109.96

PB3790

12" x 15"

500

$85.17

PB3788

12" x 16"

500

$113.09

PB3789

12" x 18"

500

$127.20

PB3791

12" x 20"

500

$141.33

PB3734

12" x 24"

500

$169.62

PB4241

12" x 36"

250

$123.48

PB4242

13" x 13"

500

$96.61

PB3793

13" x 15"

500

$114.85

PB4243

13" x 16"

500

$132.11

PB3795

13" x 18"

500

$137.81

PB3796

13" x 20"

500

$153.12

PB3748

14" x 10"

500

$82.43

PB3797

14" x 14"

500

$128.26

PB3798

14" x 16"

500

$146.58

PB3799

14" x 20"

500

$183.23

PB3810

14" x 24"

500

$197.87

PB4245

14" x 30"

500

$266.75

PB4246

14" x 36"

250

$144.05

PB3812

15" x 15"

500

$132.51

PB3815

15" x 18"

500

$176.68

PB3820

16" x 16"

500

$170.86

PB3822

16" x 18"

500

$188.46

PB3823

16" x 20"

500

$188.46

PB3825

16" x 24"

500

$251.25

PB4248

16" x 30"

250

$152.43

PB4249

16" x 36"

250

$82.05

PB3830

18" x 20"

500

$190.80

PB3834

18" x 24"

250

$127.20

PB4250

18" x 30"

250

$167.31

PB4251

18" x 36"

250

$129.72

PB3836

20" x 20"

250

$106.01

PB3840

20" x 24"

250

$141.34

PB3841

20" x 30"

250

$176.67

PB3842

24" x 24"

250

$152.64

PB4252

24" x 28"

100

$76.83

PB3843

24" x 30"

100

$144.68

PB3837

24" x 36"

100

$127.32

PB3844

26" x 26"

100

$125.88

PB4253

26" x 28"

100

$83.23

PB3845

28" x 28"

100

$125.81

PB3846

30" x 30"

100

$155.29


© SDZ Supply Co., LLC.
Reclosable Poly Bags - 4 Mil
Single track zipper extends the width of the bag and keeps products clean and free from moisture.
• Reclosable bags can be reused.
• Meets FDA and USDA specifications.
• Sizes listed are the inside usable dimensions of the bag.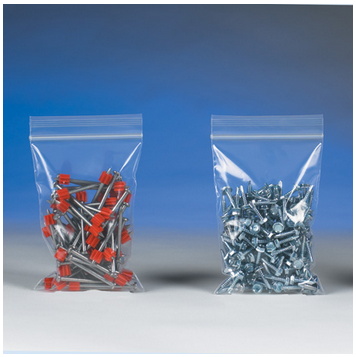 1-888-975-5215
8:00am - 5:00pm Eastern