Snap-On Label Holders

Wire-Rac Snap-On Label Holders

Part Number
L x W
Type
Inserts/
Case
Price/
Case
Order

LH153

1 5/16" x 3"

Angled Holders

25

$42.37

LH150

1 5/16" x 3"

Flat Holders

25

$27.77

LH151

1 5/16" x 6"

Flat Holders

25

$45.01
Wire-Rac Snap-On Label Holders
The solution for labeling wire shelving.

Snaps on for a perfect fit. Snap it off to reposition.
Clear plastic designed to retrofit any 1 1/4" - 1 1/2" face.
Label or insert loads from top (or bottom) and is protected by a bar code compatible clear cover.
Flat Holders sit flat against wire shelving.
Angled Holders are adjustable at 3 angles; 30", 60" or 90".
White inserts included.




© SDZ Supply Co., LLC.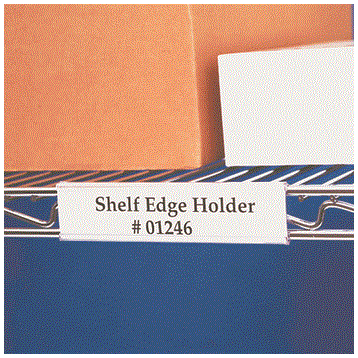 1-888-975-5215
8:00am - 5:00pm Eastern